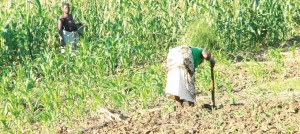 Economist tips on containing inflation
Newly-elected President of the Economics Association of Malawi (Ecama), Chikumbutso Kalilombe, has said that the country can contain inflation by storing adequate maize stocks for supply during the lean period or when weather conditions are not favourable.
This, he said, would help the country maintain food prices, thereby containing inflation.
In Malawi, inflation is mainly driven by food prices, with maize taking a greater weightage in the inflation basket.
Recently, Minister of Finance and Economic Planning, Goodall Gondwe, predicted that the country's inflation is likely to rise next month as the country will be experiencing a lean period and dwindling maize supplies on the market.
"As a country, we seem fully reconciled to the fact that we should pray and hope for good weather as a factor in our economic growth journey. When weather is bad, therefore, we are resigned to accept that the macroeconomic environment will be negatively affected," Kalilombe said.
He added: "What we suggest here is that government should put in place specific mitigates for such scenarios. For example, we could yearly have standby facilities to buy maize within or outside the country when necessary, to ensure prices are maintained at a low rate.
The inflation rate has been on a downward spiral since November last year from 25 percent to 8.3 percent at present.
(Visited 23 times, 23 visits today)
Latest posts by Vanessa Banda
(see all)