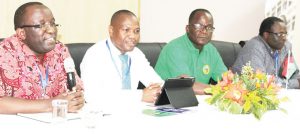 'Economy has overstayed in ICU'
By Taonga Sabola:
As Malawians were celebrating the country's successful performance in the first review of the current Extended Credit Facility (ECF) programme with the International Monetary Fund (IMF) last Thursday, economic experts said time has come for Malawi to graduate from such programmes.
Experts agreed during the just-ended Economics Annual Conference organised by the Economics Association of Malawi (Ecama) that Malawi has overstayed in the Intensive Care Unit (ICU) and "should, therefore, start reacting to medicine or die".
The meeting revealed that Malawi has, over the past decades, been given 12 ECF programmes but has only successfully completed three of them and failed on nine occasions.
Presenting a paper titled "Breaking Away: Can ECF Malawi's Economic Fortune?," IMF Resident Representative, Jack Ree, compared ECF-target countries to stroke patients.
Ree said patients suffering from stroke are given many instructions to follow on the life style to lead as well as foods to avoid.
He said if the patient follows the instructions to the letter, they become better quickly, adding that if they don't, they risk another stroke.
"The ECF is a good programme for Malawi. It is like treatment for stroke. The patient has to undergo through such a treatment to get better.

"But if the patient decides to do go against the prescriptions they risk another stroke. When you are repeatedly hit by stroke you will die," Ree said.
Speaking during a panel discussion, Candlex Limited Deputy Managing Director, Fredrick Changaya, Malawi Confederation of Chambers of Commerce and Industry Chief Executive Officer, Chancellor Kaferapanjira, and Reserve Bank of Malawi directors Kisu Simwaka and Macdonald Mwale all spoke in unison on the need for Malawi to graduate from the programme.
Changaya described the ECF as a hospital drip which is only meant to help the sick economy get better in a short time and not a permanent solution.
"This is only a drip but for the economy to get better completely, it is up to the patient to follow medical advice," Changaya said.
In his contribution, Simwaka blamed the fiscal authorities over the past 30 years for allowing fiscal slippages to derail Malawi's recovery process.
"I would say the problem is the patient himself. Why have other patients recovered from the same medicine and have gone home but we remain in ICU? It is time to get well," Changaya said.
In an interview on the sidelines of the conference, Ree said the six months prior to election time have always been critical in as far as staying the course of an ECF programme is concerned, arguing that authorities tend to loosen the fiscal policy in a desperate attempt to win votes.
IMF Deputy Managing Director, Tao Zhang, said in a statement on Thursday that Malawi's programme performance has been satisfactory, adding that program-supported structural reforms advanced and most performance criteria were met, with significant over performance in international reserves and reduction in the Reserve Bank of Malawi (RBM) holdings of government securities.
Zhang, however, said the fiscal position deteriorated due to larger than expected maize purchases—for food security after poor harvests in some parts of the country—as well as increased spending to ensure safe elections and payments of past arrears.
The ECF provides financial assistance to countries with protracted balance of payments problems. The ECF was created under the Poverty Reduction and Growth Trust (PRGT) as part of a broader reform to make the IMF's financial support more flexible and better tailored to the diverse needs of low-income countries (LICs), including in times of crisis. The ECF is the IMF's main tool for providing medium-term support to LICs.
The ECF supports countries' economic programs aimed at moving toward a stable and sustainable macroeconomic position consistent with strong and durable poverty reduction and growth. The ECF may also help catalyze additional foreign aid.
The ECF is available to all PRGT-eligible member countries that face a protracted balance of payments problem, i.e. when the resolution of the underlying macroeconomic imbalances would be expected to extend over the medium or longer term.
Assistance under an ECF arrangement is provided for an initial duration of three to up to four years, with an overall maximum duration of five years. Following the expiration, cancellation, or termination of an ECF arrangement, additional ECF arrangements may be approved.
Latest posts by Vanessa Banda
(see all)