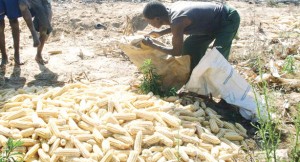 Economy not behind drop in cost of living
While a latest Centre for Social Concern (CfSC) Basic Needs Basket survey shows a steady decline in the cost of living for people living in all the major cities of Malawi, an economic analyst has said this does not mean anything about the health of the economy.
The CfSC April BNB survey report shows that the cost of basic food items for a family of six people in Lilongwe has gone down to K69,194 as compared to K72,608 in March. In Blantyre the cost of living is at K76,574 from K81,763 while in Zomba the cost of living has decelerated to K71,096 from K76,119. The trend is the same for Mzuzu.
However, Chancellor College professor of Economics Ben Kalua says the decline is only seasonal arising from the availability of food as people harvest their maize stock.
Kalua described as artificial the measures being undertaken by government to bring the economy back on track. He said this poses a danger in the long-term.
"The economy is not going anywhere. We are borrowing heavily to bolster our foreign exchange reserves. Consider the loan from the PTA bank. These are all artificial measures which could damage the economy in the long run," observed Kalua.
Malawi's external debt jumped by 17.4 percent in December fuelled by US$250 million currency swap deal with the PTA Bank.
In its Financial and Economic Review for fourth quarter 2014, RBM said the deal saw Malawi's external debt rising to US$1.8 billion from US$1.5 billion.
"External debt at the end of the fourth quarter of 2014 increased by 17.4 percent to US$1,802.3 million (K850.13 billion, about 34.8 percent of GDP) from US$1,535.2 million in the preceding quarter.
Within a space of nine years, Malawi's external debt has now risen to about 58 percent of the US$3.1 billion forgiven on September 1, 2006 under the Hipc debt relief programme.
(Visited 8 times, 8 visits today)
Latest posts by Vanessa Banda
(see all)