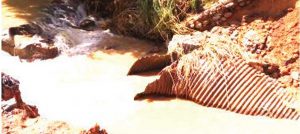 Egenco moves to address siltation
Malawi's newly established Energy Company (Egenco) has set aside close to K4 billion to deal with the problem of siltation at Tedzani Power Station.
The project is due to start in June 2017.
Egenco Chief Executive Officer, William Liabunya, has since confirmed that some of the resources will be used to maintain a permanent dredger at the station to combat siltation.
"Some streams that come directly into the power source or dam bring in a lot of silt, which causes siltation of the ponds at the power station. That is one of the main issues that we want to address.
"We included the project in our budget and based on what the Minister of Natural Resources, Energy and Mining said, we will do that after following right procurement procedures," Liabunya said.
He said Egenco will find a permanent dredger—who will be stationed at the pond—to deal with any future siltation challenges.
Liabunya said the company wants to deal with siltation so that ponds are deep to be able to generate enough power to meet demand.
Two weeks ago, Egenco unveiled plans to embark on the expansion of Tedzani Power Station.
"This project will add 18 megawatts to the grid. It is being implemented with funding from the Japanese government and with additional local funding being worked out by Egenco and the Malawi Government. This project is expected to be commissioned by 2019," Liabunya said in an earlier interview.
This coincides with major rehabilitation works at Nkula A Power Station expected to start in June this year.
The maintenance works are part of the $350 million Millennium Challenge Compact (MCC) which was signed between Malawi and the United States governments.
(Visited 21 times, 21 visits today)
Latest posts by Vanessa Banda
(see all)