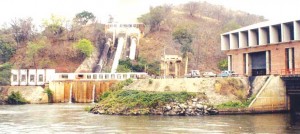 Egenco plans additional power stations
The Japan International Cooperation Agency (Jica) has committed $67 million for the construction of Tedzani IV power station which will add 18 megawatts to the national grid, the Energy Generation Company (Egenco) has said.
Egenco Chief Executive Officer, William Liabunya, said his company is searching for the remaining K3 billion to kick start the project.
"This year, we will embark on the expansion of Tedzani Power Station. The project is being implemented with funding from the Japanese Government and with additional local funding being worked out by Egenco and the Malawi Government. This project is expected to be commissioned by 2019," Liabunya said.
Currently, Malawi has a total installed power capacity of 351megawatts, 90 percent of which is hydroelectricity.
The development has often resulted in serious power hiccups every time there are shocks in the water levels in Lake Malawi and Shire River.
Liabunya said Egenco will also be working on the long awaited 320 megawatts Mpatamanga hydro-power project.
He said feasibility studies for the project which is being financed by the World Bank, are almost complete and we are courting possible financiers to implement the project.
"Even though Mpatamanga will generate hydropower, it will be unique from the other power stations in that it will have a very big dam that will enable us to store water, which we are currently not able to do at our existing power stations.
"As such it will provide a means for managing the cascade of the Shire River. Through this power station, we will be able to store enough water for the station and be able to expand the downstream Kapichira Falls by 100 megawatts while also supplying water for the Shire Valley Irrigation Project which is underway and being financed by the World Bank as well," Liabunya said.
In its Malawi Business Climate Survey for 2016, the Malawi Confederation of Chambers of Commerce and Industry (MCCCI) identified power as one of the challenges affecting doing business in Malawi.
(Visited 30 times, 30 visits today)
Latest posts by Vanessa Banda
(see all)