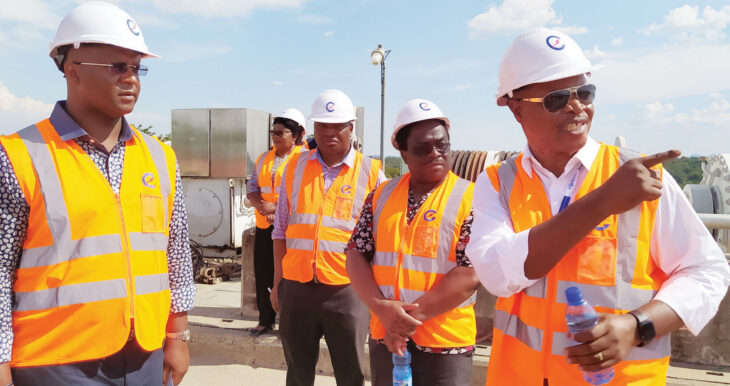 Egenco ponders on output growth
Energy Generation Company (Egenco), a State-run firm established to generate power, remains upbeat to meet its target of increasing installed electricity capacity to 1,687.5 Megawatts (MW) by 2033.
But in the interim, the plan could be affected by the global Covid-19 pandemic, according to Egenco Chief Executive Officer, William Liabunya.
Liabunya told journalists on Friday when Minister of Energy, Atupele Muluzi, toured Kapichira hydropower plant, that the lockdown in some countries due to the coronavirus has ripple effects on Malawi.
He said the firm could miss deadlines for two projects, rehabilitation of one machine at Kapichira hydropower plant and the Chizumulu-Likoma Island solar project, due to travel restrictions following the spread of Covid-19.
"There is one machine [at Kapichira hydropower plant] whose spare part was being manufactured in Germany. We could not tell when that could come and it required some engineers to come and commission it. Due to the restrictions, we could also not tell when the work will be done," Liabunya said.
The two units that went down at Kapichira hydropower plant have a combined installed capacity of 64.8MW.
In 2019, Egenco set ambitious targets in its 15-year strategic plan to increase energy generation capacity, which will require $4.3 billion (about K3.2 trillion).
Earmarked projects include building and increasing installed capacity of Mpatamanga hydropower plant (HPP) of 308MW by 2025, Kholombidzo HPP of 219MW by 2027, North Rumphi HPP of five megawatts by 2027, Hamilton HPP of 96MW by 2028, Tedzani IV's 18MW by 2020, Kapichira of 112MW by 2028, Wovwe's four megawatts by 2024 and development of mini grids of five megawatts by 2021.
Liabunya said the firm is on course in implementing the plan and would conduct a quarterly review to assess progress made.
"From that, you can see that we haven't strayed away from our strategic plan. Financing could be another issue but with support from the government and other stakeholders, we should be on course," Liabunya said.
In a separate interview, Muluzi said amid challenges, the government is working towards stabilising supply.
"The issue of blackouts is of concern and indeed, especially in the past two weeks, we have seen increased disruption. We still need other measures to address the challenges," Muluzi said.
In Malawi, where less than 12 percent of the population has access to electricity, lack of reliable power supply is a major constraint to business and economic growth.
Malawian firms consistently cite weakness in the electricity sector as one of the major obstacles to doing business.
Let us know what you think of this update and remember to add us on our facebook and follow us on our twitter. Make sure to come back daily for more Malawi business news updates.
Quick Links: Malawi Radio Station Frequencies | Where To Eat In Malawi | Download Business eBooks | Ten Signs You Are An Entrepreneur | What is a Managing Director?
Today's top business story: Top Commercial Banks In Malawi
Source Link
Latest posts by Vanessa Banda
(see all)