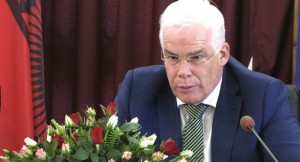 EIB pledges to up Malawi footprint
The European Investment Bank (EIB) says it wants to increase its investment portfolio in Malawi through financial support to infrastructure development and local entrepreneurship in the country.
EIB is already financing a 15 million euros line of credit to First Merchant Bank and a number of other banks are also expected to access the window aimed at providing affordable loans to farmers next year.
EIB vice president Pim van Ballekom, who visited the country last week, told journalists in Lilongwe on Friday that the bank has plans to finance investments in energy, roads as well as the small to medium enterprise sector in the country.
He was speaking after holding talks with Malawi government and private sector officials as well as signing various loan agreements.
"We are in talks with a number of local partners on new credit lines to Malawi targeting the agricultural sector and smallholder farmers," he said.
Ballekom said EIB has in the last five years provided nearly 1.5 billion euros to SMEs in sub-Saharan Africa in partnership with local banks.
He said Malawi can take advantage of a policy shift at EIB which is now focusing on entrepreneurship support, unlike previously when it solely financed infrastructure projects in Europe.
On infrastructure investments, Ballekom said EIB has earmarked finance for projects in energy and transport and that discussions are already underway that will lead to funding of some projects.
He said the EIB and the EU Delegation, who have a strong track record of supporting road maintenance in Malawi, are already in close contact with the the Malawi Roads Authority.
Pending successful outcome of the feasibility studies being financed by the World Bank and the Comesa, Ballekom said the EIB expects to launch an investment programme with the Malawi Roads Authority to upgrade crucial road corridors in Malawi by 2016.
He challenged authorities to come up with proposals of investment support saying Malawi has the need for such support in almost all the sectors.
The EIB envoy signed a K12 billion loan agreement with Malawi government for projects by Lilongwe Water Board to improve water supply.
However, he failed to sign another loan agreement with government of K9 billion for airport infrastructure development as Parliament refused to endorse a bill due to some issues about the project.
Ballekom said once the bill is passed in Parliament, the agreement will be signed
(Visited 9 times, 9 visits today)
Latest posts by Vanessa Banda
(see all)