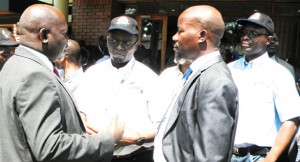 Engineers blame banks on economy
The Malawi Institute of Engineers (MIE) has blamed the financial sector for the country's failure to grow economically due to lack of support in technology and investment.
This was said in Mangochi over the weekend during this year's engineers' conference.
The conference, which closed on Saturday, was held under the theme: 'Engineering the future through innovation, research and development'.
MIE president Andrew Thawe said there is need for serious reforms in the financial markets to encourage investment and borrowing.
He said the financial market in the country is not supportive of technological development, entrepreneurship and investment.
"Banks are not ready to share risks with local investors towards new areas. This is an area that needs huge reforms if we are to curtail importation of toothpicks, money pins, staples, rubber bands and other many basic imports," said Thawe.
Minister of Education, Science and Technology, Emmanuel Fabiano, who officially opened the conference, said innovation must become a culture among Malawians.
He said the government is implementing a number of public sector reforms that will gradually change the way of doing business.
"The private sector should follow suit by promoting professionalism, efficiency and effectiveness in its work," said Fabiano.
(Visited 10 times, 10 visits today)
Latest posts by Vanessa Banda
(see all)