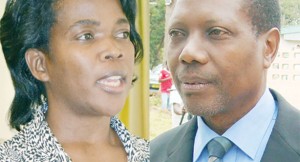 Escom capacity reduced by 50%
Malawians should brace for longer and more intensive loadshedding after the Electricity Supply Corporation of Malawi (Escom) announced that generation capacity at its Nkula and Tedzani Hydro power stations has gone down by close to 50 percent due to low water levels in Lake Malawi and resulting low flows in the Shire River.
A statement issued by the power utility company on Wednesday shows that the country's generation capacity now stands at 211.04 megawatts (MW) against a forecast maximum demand of 278 MW.
And Escom does not provide a specific time frame when the country should expect normal electricity supply to be restored simply indicating that the situation will remain the same until water levels in the Shire River improve.
"As earlier reported, the diminishing water level in Lake Malawi and subsequent low Shire River flows have continued to worsen the generation capacity, thereby further reducing the generation capability and level of electricity supply in the country," the statement reads in part.
But an economic analyst has warned that while the situation and the reason given may be acceptable in the short-term, it would be disastrous for the power utility company to operate at half capacity in the longer term as the situation brings serious risks to the economy.
The analyst, a professor of economics at Chancellor College, Ben Kalua, has observed that as Malawi continues to experience unreliable power supply, more and more people are employing their own capacity to generate power; a situation he says would have serious repercussions on the importation side of the economy.
He says importation of energy by companies and individuals would lead to wastage of foreign exchange, thereby worsening the economic crisis.
"The energy sector is very critical to the economy as it is one of the key areas foreign investors consider before bringing their investment to any country. And it is not realistic for Malawi to channel more resources towards importation of things like generators when we have the capacity to generate our own energy here at home," he said.
Kalua further observed that spending more foreign exchange to procure fuel to run the alternative energy devices is not an expenditure that Malawi should be incurring in the current economic climate.
"This brings with it noise pollution and loss of foreign exchange coupled with the fuel importation would make us quite wasteful as a nation," he observed.
When contacted, Escom Public Relations Manager Kitty Chingota said although the situation will remain the same in the short-term, Escom has put in place strategies to minimise the impact of loadshedding to between six and seven hours.
She further attributed increased loadshedding at night to a change in consumption patterns among Malawian.
"We are experiencing the lowest water levels in the history of electricity generation in the country and we urge our customers to conserve the little electricity we have," she said.
(Visited 26 times, 26 visits today)
Latest posts by Vanessa Banda
(see all)