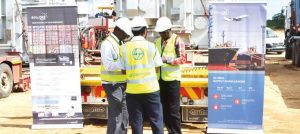 Escom improves financial status | The Times Group
The ongoing power sector reforms being implemented through the Millenium Challenge Account Malawi (MCA-Malawi) power compact have helped to improve the financial performance of Electricity Supply Corporation of Malawi (Escom).
The revelations were made during a sixth Semi-Annual Review (SAR) Forum, where key stakeholders in the power sector, led by Ministry of Natural Resources Energy and Mining, Bright Msaka, met to assess pledges and commitments as laid out in the Millenium Challenge Corporation (MCC) Compact Document.
In his presentation at the forum, Escom's Acting Director of Finance, Elias Banda, said owing to the reforms in the power sector, the parastatal has seen a steady reduction in its systems losses from 21.6 percent recorded in the 2015-2016 fiscal year to 18 percent as of December 2016.
He attributed the reduction in systems losses to the migration of domestic and general phase customers from post-paid to pre-paid metering, as well as the transmission maintenance and system reinforcement efforts.
In addition, increased operational activities have resulted in increased utilization of available finances related to capital expenditure (from 30 to 89 percent) and improvements in maintenance expenditures against planned maintenance which was at 69 percent at of December 2016.
Banda also disclosed that migration from post-paid to prepaid metering has increased from 313,279 of the total of 360,248 customers recorded as at December 31, 2016, representing 87 percent of the total customer base. Migration of customers to prepaid meters has been instrumental in reducing arrears or debts owed to Escom and also increasing the utility's balance sheet.
MCA-Malawi is leading the implementation of Escom's Turnaround Facility aimed at restoring the institution's financial health and rebuilding the organisation into a financially sustainable and well-managed utility company.
MCA–Malawi's Financial turnaround activity supported Escom with consultants for Mentoring, Financial Strengthening, Operational Improvements, Corporate Governance Support and in Communications and Public.
In 2013, government wrote-off K12 billion of public debt owed by the power utility company and converted it into equity: the debt cancellation was one key step towards the Entry into Force (EIF) of the United States of America (USA) funded Millennium Challenge Corporation (MCC) compact agreement, aimed at revitalising Malawi's power sector.
(Visited 28 times, 28 visits today)
Latest posts by Vanessa Banda
(see all)