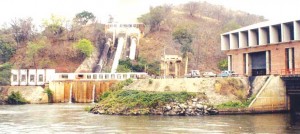 Escom operating at half capacity
The Electricity Supply Corporation of Malawi (Escom) is operating at less than half of its capacity only able to produce on average 150 Mega Watts (MW) of power from a total installed capacity of 351MW.
While acknowledging that the onset of the rainy season is good news to power generation, Escom says rainfall amounts the country has received so far are still not enough to bring major improvements to electricity generation capacity.
Initially, Escom had assured its customers that it expects generation to improve with the onset of the rainy season.
But a statement from Escom on the effect of current rainfalls on water levels and electricity generation, the Corporation said it is still failing to generate power at maximum capacity as the rains received so far have not translated into required flows for power generation.
This is despite the Department of Climate Change and Meteorological Services earlier indicating that most parts of the country had received good rainfall amounts as of December, 2016.
The Department said in the period under review, two main rain bearing systems, the Inter Tropical Convergence Zone and Congo Air Mass got established and were active over Malawi resulting in most areas in Malawi receiving moderate to heavy rainfall while many others registered average to above average rainfall.
But in the update, Escom said it requires 264 cubic meters to generate electricity to maximum
capacity but that despite the onset of the rainy season, average water flows in the Shire River have remained at around 115 cubic meters per second, translating to less than 50 percent of the water flows required to generate at maximum capacity.
"Consequent l y, Escom is producing on average, 150MW of power from a total installed capacity of 351 MW of hydro plants," Escom said in the statement.
Although it is not yet clear when Escom expects the situation to improve, Escom has, however, indicated that as the rainfall amonuts improve, power generation is also likely to improve.
The Department of Climate Change has since predicted that the country should expect to receive normal to above normal rainfall during the 2016/2017 rain season.
Earlier in October 2016, Escom officals held a press conference in Blantyre where the Corporation warned its customers to brace for extended blackouts by December if water levels in both Shire River and Lake Malawi will not improve.
At that meeting, Escom said its power generation capacity had gone down to 165 megawatts from 200 megawatts, a situation which the Corporation said was making it difficult to generate power.
Escom Director of Generation, Evance Msiska, said water levels in Lake Malawi had hit their lowest levels in history.
"This would be a critical situation which would make it impossible even to provide any service to industry and even some essential services. Operating at the current flow of 140 cumecs is unsustainable. Currently a discharge of 115 cumecs is recommended for sustainability," Msiska said.
In its latest Malawi Business Climate Survey Report, the Malawi Confederation of Chambers of Commerce and Industry (MCCCI) has listed electricity among the major constraints to doing business in 2016.
(Visited 84 times, 84 visits today)
Latest posts by Vanessa Banda
(see all)