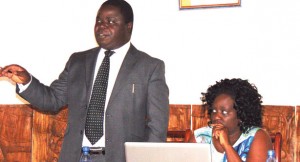 A special committee has been set up by the Malawi government to oversee the unbundling of the Electricity Supply Corporation of Malawi (Escom) into two different entities as part of Malawi Power Market Restructuring being implemented with funding from the United States government.
The process is expected to be completed by June next year by which Escom would have been split into two companies, one for electricity generation and the other for transmission and distribution of power to commercial and domestic customers.
This was learnt during a media workshop organised by Millennium Challenge Account- Malawi (MCA-M) in Salima on Friday to brief journalists on the Power Market Restructuring being supported under the US government's Millennium Challenge Corporation (MCC) Compact project.
Making a presentation at the workshop, MCA-M Deputy Chief Executive Officer, Lameck Mithi, said the unbundling of Escom is aimed at facilitating entry of independent power producers on the Malawi market.
He said Malawi needs the private sector to support the government in energy generation investments if the country is to meet its energy demands in the coming years.
"Government alone cannot meet the investment needs in the energy sector," said Mithi.
He said the separation of generation and distribution functions of Escom will allow the distribution company to play an independent role of buying electricity from Escom Generation as well as from private producers for supply to various users.
Apart from the unbundling of Escom and the introduction of independent power producers in the country, the Power Market Restructuring process includes redesign of regulatory process and methodologies and changes in the Electricity Act (2004).
The Power Compact has so far seen Escom registering a financial performance turnaround process which has culminated it becoming it turning into a fairly financially stable and profitable company.
However, Escom is still struggling to generate enough power to meet demand with the country having one of the lowest levels of power penetration at just 9.8 percent.
The US$350.7 million Power Compact is therefore overhauling the power sector with infrastructure, governance, legal and regulatory environment.
(Visited 1 times, 1 visits today)
Latest posts by Vanessa Banda
(see all)