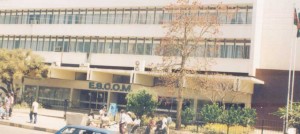 Escom unbundled | The Times Group
Government has confirmed that the Electricity Supply Corporation of Malawi (Escom) has now been officially unbundled, creating two companies, one responsible for power generation and the other distribution.
A statement from the Ministry of Natural Resources, Energy and Mining indicates that the development is with effect from January 1, 2017.
The development also implies that the generation of power is carved out of Escom and that a new company called the Electricity Generation Company Malawi Limited (Egenco) is now operational.
This follows what government says implementation of the Power Market Restructuring (PMR) programme, meant to increase efficiency in power generation and creating enabling environment for Independent Power Producers (IPP) to invest in power generation.
The statement adds that the new company was registered and incorporated under the Companies Act of the Laws of Malawi on September 7, 2016.
"The remaining functions for Escom have also been restructured to facilitate the efficient operation of the power market," the statement said.
According to the statement, the restructured Escom Limited has adopted, implemented and operationalised the new organisational structure for Escom that incorporates a single buyer and system and market operator functions.
"The newly formed Egenco Malawi Limited started its operations on the New Year's Day following appointment of Board of Directors and an executive management team to manage it," the Ministry said.
Escom and Egenco have since begun working on the schedule of arrangement to focus on the trading of electricity between them.
PMR is part of the public sector reforms that the current government is implementing to provide reliable supply and increased access to electricity through the creation of an enabling environment for private sector involvement so as to stimulate debate.
Malawi needs between 500 and 1,000 additional megawatts over the next five years to keep up with demand projections.
The United States through its Millennium Challenge Corporation (MCC) has invested $350 million to increase power generation and improve transmission.
(Visited 1 times, 1 visits today)
Latest posts by Vanessa Banda
(see all)