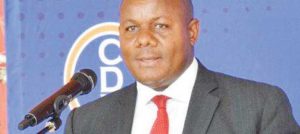 Expert speaks on financial literacy
CDH Investment Bank Chief Executive Officer, Misheck Esau, has called for concerted efforts to improve knowledge among Malawians on financial products.
Esau, who once served as president of the Bankers Association of Malawi, observed that there is still a lot of money that is idle that could help grow the economy.
"First and foremost is education, we can all agree that we need to educate Malawians to know what banks and microfinance institutions are offering. That knowledge will help them make decisions on where to invest their money," Esau said.
He hinted that the current situation, where many Malawians do not save through the banks, is because they do not know of products on the market that offer tangible returns.
"When the masses are financially literate, through the medium of competition, banks and other institutions will be able to reach out to them with different instruments and in the end improve saving culture," Esau said.
He also pointed out the need for more investments in digital financial services to help reach out to people in the rural areas.
(Visited 23 times, 1 visits today)
Latest posts by Vanessa Banda
(see all)