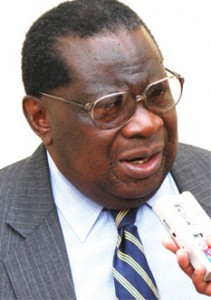 Experts see mounting pressure on budget
The current 2014/2015 national budget continues to face mounting pressure as authorities try to strike a balance between a shrinking resource envelope and unlimited wants, Nico Asset Managers has said.
The development comes at a time when government's main cash cow, the Malawi Revenue Authority (MRA) continues to misfire, missing its monthly target for the fourth month running in April 2015.
Parliament in January approved a K22 billion supplementary budget, which brought total spending for the 12 months ending June 30 to K770 billion.
The extra funding is meant to cover an increase in the interest bill and an increase in the Farm Input Subsidy Program (FISP).
In its April 2015 Economic Report released on Wednesday, Nico says the currency swap that government obtained of US$250 million from PTA bank may be used to finance the deficit.
Nico, however, notes that the deal will increase future loan obligations for government depending on the terms of the transaction.
"According to the IMF report government has exceeded the non-concessional external debt maturing in more than one year.
"This is in breach of the Extended Credit Facility, however the IMF granted waivers in light of the lack of donor funding and governments initiatives to overcome the public finance management concerns," says Nico.
The investment management and advisory firm further says the increase of public sector wages by 45 percent against the budgeted 24 percent may increase the fiscal deficit as expenditure increases.
The increased expenditure, according to Nico, will need to be financed from increased taxes, increased government borrowing or reduced government spending.
"The government also spent a significant amount of money in relief expenditures as a result of the damage caused by the heavy rains and floods that occurred in January 2015.
"This will add to pressures on the fiscal discipline that is being implemented by the government," reads the report in part.
Capital Hill recorded a deficit of K78.52 billion in the first half of the 2014/15 fiscal year due to the under collection of domestic revenues and lack of grants from donors.
Finance Minister Goodall Gondwe told Times Television recently that the zero-aid budget performed well in the first half but that it was greatly affected by the January floods that hit most districts in the Southern and Central region.
Gondwe observed that had it not been for the floods, the economy would have been in a much better shape than it is today.
The EIU has forecast the fiscal deficit at 4.3 percent of GDP in the  2014/15 financial year as the tight external finance environment forces the government to keep a lid on spending growth. The deficit is forecast to narrow, gradually reaching 3.1 percent of GDP in 2017/18.
Latest posts by Vanessa Banda
(see all)