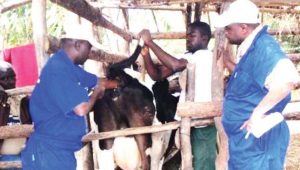 Farmers decry low milk prices
Dairy farmers in the country are concerned with the low prices processors are offering for the product on the market.
This is despite a recent increase in the prices from K150 to K170 per litre. This follows the government's decision to remove Value Added Tax (VAT) on the product in the 2017/2018 national budget.
But the farmers claim the prices are among the lowest in the region with buyers in neighbouring countries, such as Zambia and Zimbabwe, offering twice as much as the prices on the local market.
Malawi Milk Producers Association National Director, Herbert Chagona, described the development as detrimental to the growth of the industry considering the increase in the cost of production from K72 to K133 per a litre of milk.
"One of the biggest challenges the industry is facing is the issue of prices. If we first look at the black market or vendors, they are selling their milk at K250 a litre or more.
"In other markets, the same volume is fetching $0.45 and if it was the same here, the local farmers would not complain," Chagona said.
He further lamented the persistent power outages the country is experiencing. He said that milk is a perishable product, which has to be cooled to six degrees celsius, when it is collected by the processors.
Commenting on the issues raised, Director of Animal Health and Livestock Development in the Ministry of Agriculture, Irrigation and Water Development, Patrick Chikungwa, said that the government will continue to look into the development to improve prices offered by milk processors.
He said the removal of the VAT on milk was an indication that the government is committed to transform and grow the industry.
"The issue of pricing has been there for sometime but as government, we have been facilitating to ensure that farmers get good prices. We have held discussions with both the farmers and the buyers, to have a win-win situation," Chikungwa said.
The milk industry has in recent years been growing witnessed by an increase in production to 29 million litres in 2016.
(Visited 4 times, 4 visits today)
Latest posts by Vanessa Banda
(see all)