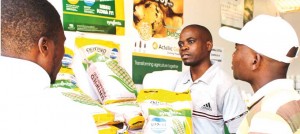 Farmers Organisation brings MRI seed varieties on the market
Farmers Organisation Limited has brought on the market one of Zambian popular maize seed varieties on the Malawi market.
The MRI maize seed variety is conducive to climate change and has produced positive results in Zambia.
Farmers Organisation Seed Sales and Marketing Manager, Hannock Madeira said the climate change effects, in terms of food security can only be addressed if farmers grow drought resistant crops.
"With floods and drought, the country is failing to produce enough food for both consumption and export resulting in increased imports of consumables. However, if farmers can adjust and adopt modern agriculture [methods]by growing early maturing and drought resistant crops, as a country we will be able to be food secure despite all the calamities," he said.
Madeira said his company thought of bringing into the country MRI 514 and MRI 614 maize seed varieties that have proved to be strong in all weather patterns.
He said the seed varieties have a 100 percent germination rate as compared to other maize seeds on the market.
"Germination is one of the major problems with some of our local maize seeds. If farmers buy seeds that cannot germinate 100 percent, the result is low yield. As a company, we would also like to address that problem," said Madeira.
He further said MRI 514 is an early maturing variety and performs better during winter cropping, while MRI 614 is a medium maturing variety which also performs better during both-rain fed and irrigation agriculture.
Madeira said both varieties produces 200 bags of 50 kilograms per hectare
(Visited 28 times, 1 visits today)
Latest posts by Vanessa Banda
(see all)