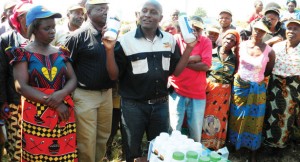 Farmers urged to use modern tech
Hybrid maize seed and herbicide producer, Monsanto has asked farmers to use modern farming technologies, including herbicides. Monsanto made the call during a field day at Mbulumbuzi in Chiradzulu district.
The company's Sales and Marketing officer for the south Denis Kachikho said herbicides have several socio-economic benefits.
He said apart from climate change, the world is facing different challenges that affect production.
"Climate change has not spared Malawi, but also we have ailments like HIV and Aids. These ailments affect household activities such as farming. But with the use of herbicides such as Harness and Round Up, farming problems are addressed," said Kachikho.
He said by applying Harness or Round Up, farmers save a lot of time and money.
"With these herbicides, the maximum a farmer can spend is K5,000 for a one hector piece of land. The farmers also only spend four times working at his garden instead of the normal 40 plus days," he said.
Kachikho further said apart from using herbicides, farmers also have to use hybrid seeds for them to realize a bumper harvest.
He said as a company, they produce high germinating seeds that complement the government's effort in food security.
"Our seeds have a high germination rate and survive during drought or heavy rains. If a farmer follows good farming practices, they are able to harvest enough even in unfavourable weather conditions.
"We also make sure that our seed helps the farmer to produce a bumper harvest enough for the family and for sale.
This will see the country being able to produce enough maize for local consumption and also for export," he said.
Ministry of Agriculture, Chiradzulu Field and Nutrition officer LusunguMtokale said herbicides are approved agriculture chemicals.
"These are approved chemicals and they are good for the soil. Farmers are being encouraged to use herbicides so that they can diversify," said Mtokale.
Latest posts by Vanessa Banda
(see all)