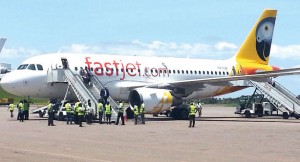 Fast Jet LL-Dar flights launched
Minister of Transport and Public Works Francis Kasaila on Tuesday presided over the inauguration of new flights between Lilongwe and Dar es Salaam to be operated by Fast Jet airline from Tanzania.
The ceremony took place at Kamuzu International Airport in Lilongwe where the first flight by the airline took off from Malawi's capital city.
The airline, which will be flying twice a week, hopes to launch another flight between Blantyre and Dar es Salaam.
Fast Jet general manager, Jimmy Kibati, said the company was excited to see the Malawi government opening up to foreign airlines, unlike in other countries where the business is restricted to national airlines.
"This is exciting to us as well as to passengers because it creates competition to the advantage of travelers," said Kibati.
He said the company offers low cost flights due to the unbundling of expenses to ensure passengers pay only for specific service they need.
"For example, we don't make every passenger pay for luggage which they are not even carrying," said Kibati.
On his part, Kasaila said government expects to register more airlines with long haul flights to reduce air transport costs in the country.
He said the opening of the skies is aimed at facilitation the growth of the country's airline industr y which is currently dominated by a few companies, leading to high cost of services.
"We expect more airlines to start their flights once we finalise upgrades of Kamuzu and Chileka airports, probably sometime next year," said Kasaila
(Visited 10 times, 10 visits today)
Latest posts by Vanessa Banda
(see all)