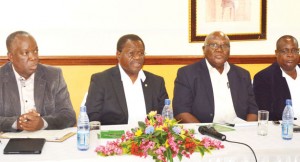 Faulty machines cause of Escom power outages
The Electricity Supply Corporation of Malawi (Escom) has acknowledged that it is facing challenges in power generation and distribution due to outages of some of its machines.
Addressing the media in Blantyre on Sunday, Escom Chief Executive Officer John Kandulu said the sole power producer has problems with one machine in Nkula A and another one at Kapichira.
He explained that the Nkula A machine broke down in April while the Kapichira machine developed a fault some two weeks ago.
"Repairs are currently under way for both machines and we expect the Nkula machine to be back by the end of the month, while the Kapichira one will be back by mid-September," he said.
Kandulu further said the outage of the two machines has seen the main grid losing 40 megawatts, resulting in increased load shedding.
He also said apart from the outage of the two machines, there are also works going on at Tedzani that have resulted in increased load shedding during weekends.
"We are doing preparatory works for the construction of Tedzani 4. The works are being done by Mota Engil and we requested them to work during weekends to reduce power outages during week days.
"The construction of Tedzani 4 will bring about 22 megawatts by the next two years, and to Escom, this is an important project," said Kandulu.
He further said the amount of water flowing in Shire River have also contributed to the power problems being experienced in the country.
Kandulu said the erratic rains experienced in the country particularly in the northern region, failed to sufficiently fill up the Shire River to the required levels.
"What is giving us anxiety is that the water levels are not at the level where we can generate power. The normal water flow is 260 cubic meter per second but as of Sunday morning, the flow levels were at 208 cubic meter per second," he said.
Kandulu said with the current water flow, Escom will not be able to run its machines in full capacity and hence advised electricity users to conserve energy especially during peak hours.
(Visited 28 times, 28 visits today)
Latest posts by Vanessa Banda
(see all)