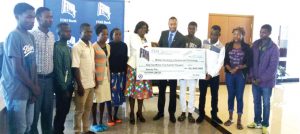 FDH Bank rescues 10 Must students
FDH Bank has rescued 10 Malawi University for Science and Technology (Must) students courtesy of a K62.5 million-worth scholarship fund the bank is implementing.
FDH Bank Deputy Managing Director, William Mpinganjira, said the fund will support the students throughout their five-year stay at the university.
Mpinganjira said, apart from the scholarships, FDH Bank has also opened internship opportunities for 10 students at the university.
"This show show committed we, as a bank, are to support the government in driving the education sector forward," Mpinganjira said.
He said, being a home-bred and home-grown bank, FDH takes prides in its commitment to corporate social responsibility.
"For the beneficiaries of this fund, I urge you to make the most if it and one of the areas we will look at is your academic performance. I am very positive that you will make it and that we will gather here in a few years to celebrate your graduation," Mpinganjira said.
Must Vice Chancellor, Address Malata, thanked FDH Bank for the sponsorship.
She said it is sad to see needy students at the college failing to find money for buying food and other necessities.
Malata said although government provides loan facilities to students in institutions of higher learning, not all of them have the chance to get the loans.
Speaking on behalf of the students, Chisomo Kanthanga, a Medical Microbiology student, praised FDH Bank for coming to their rescue.
"We promise to work hard in class and behave responsibly throughout our stay here," Kanthanga said.
(Visited 1 times, 1 visits today)
Latest posts by Vanessa Banda
(see all)