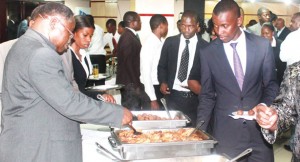 FDH/MSB merger to take two years
The merging process of FDH Bank and Malawi Savings Bank (MSB) to become one entity, might take about two years and depends on approvals from the Reserve Bank of Malawi (RBM).
FDH managing director, Philip Madinga, said this during a cocktail reception organised by the bank for its corporate and small and medium scale clients.
Madinga said MSB will meanwhile continue to operate separately from FDH Bank until the process of integration is completed.
"During this period, MSB will continue to transact its business as it has always done," said Madinga.
"The only difference will be that MSB will now be better supported by a new shareholder, FDH Financial Holdings and will be adequately capitalised by the end of this year," he said.
Madinga said the planned merger of MSB and FDH Bank, both of which have a common heritage of being home bred and grown, will create a top three bank in terms of market share for deposits once the merger is completed.
"Our aspiration is to become a number one bank within the next few years," said Madinga.
He said although there are some areas and challenges that need to be improved, MSB is a good bank with a dedicated workforce and an excellent footprint.
He said during the short period that MSB has been part of the FDH Group, significant improvements have been made.
Madinga said for example that MSB's liquidity position is now in compliant with regulatory requirements and that FDH expects improvements to continue in all key areas of the bank.
"We expect that very soon we will be able to announce that MSB is now fully Basel II compliant but also that it is compliant with other regulatory requirements. The future looks very bright for MSB," he said.
In his remarks, MSB acting CEO Teddie Chanza assured customers that MSB will continue offering all the products and services it has been offering before the sale.
"All our outlets are operational across the country. Going forward, your banking experience will only get better," said Chanza
(Visited 16 times, 16 visits today)
Latest posts by Vanessa Banda
(see all)