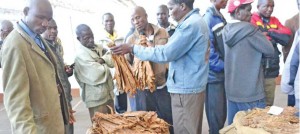 Fears over tobacco output | The Times Group
Tobacco grower's representative body, Tobacco Association of Malawi (Tama) has said output for the leaf is likely to drop substantially this year owing to frustrations among farmers over last year's prolonged marketing season.
Last season was characterised by poor prices and a drop in earnings.
The association also faults poor weather conditions in some parts of the country among other possible contributing factors.
Tama President, Ruben Maigwa, however, said the drop in output may influence an improvement in quality of the leaf produced and prices on the market.
He said the outlook for the leaf remains positive.
"There is a high possibility that the tobacco output will go down this year. However, we hope to still produce good quality leaf compared to last year, which will in turn also likely attract good prices," Maigwa said.
Last year, the country produced over 211 million kilogrammes of the leaf against a projected demand of 158 million kilogrammes.
This compromised prices on the market with revenue from the leaf dropping to $275.7 million at the end of selling season in December 2016, from $337 million realised in 2015, representing an 18.1 percent drop.
Maigwa said the Association still sees a positive outlook of the tobacco market in the short to medium terms.
(Visited 63 times, 63 visits today)
Latest posts by Vanessa Banda
(see all)