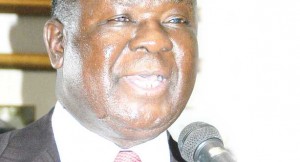 Felix Mlusu bids farewell to Nico Holdings
After serving for 41 years, Nico Holdings managing director Felix Mlusu finally bid farewell to the company on Thursday at a cocktail at Ryalls Hotel in Blantyre.
In his farewell remarks, Mlusu said dedication and perseverance are key at a workplace.
Mlusu said he leaves Nico as a happy person after successfully steering the company into a group.
"When I joined Nico, it was a small firm concentrating on insurance only, but over the years the company has grown and it is now a group of companies," he said.
Mlusu said during his tenure, he received job offers from around the world, but he chose to stay put at Nico.
"I received numerous offers but I chose to stay at Nico because the team I had was hard working and aimed at nothing but success," said Mlusu.
Nico board chairman Aldin Osman said Mlusu was exemplary and hard working.
He said there are a few managers with Mlusu's character.
"Mlusu is one of a kind. He was dedicated to his job and a good example to his staff. We are going to miss his wisdom but we wish him well on his retirement journey," said Osman.
New Nico managing director Vizenge Kumwenda, who understudied Mlusu for 23 years, said Mlusu has left big shoes that will be hard to fit.
He however said with the team that Mlusu has left behind, the company will continue to grow.
"This is not the end of Nico. We will strive to grow even beyond what Mr Mlusu has done. Nico has a dedicated team and with the spirit Mlusu has left, we will engage an extra gear to continue registering success," said Kumwenda.
Nico is a financial services organisation involved in the business of general insurance, life insurance, pensions administration, banking, mortgage finance, lease finance, asset management and information systems.
The company is currently operating in five countries, namely, Malawi, Tanzania, Uganda, Zambia and Mozambique.
Let us know what you think of this update and remember to add us on our facebook and follow us on our twitter. Make sure to come back daily for more Malawi business news updates.
Latest posts by Vanessa Banda
(see all)