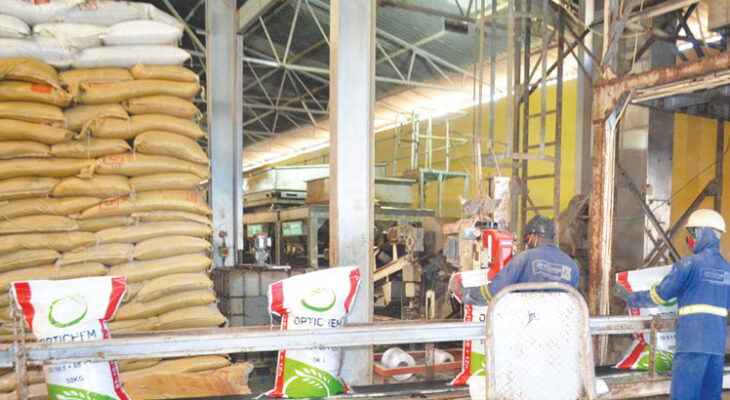 Fertiliser re exports rising, figures show
 Malawi's fertiliser re-exports volumes are steadily rising, moving by 97 percent over a six-year period from 3 600 metric tonnes (MT) in 2016 to 7 093MT in 2022, a situation commentators say raises serious concerns.
In its assessment of the fertiliser market in Malawi published by Africa Fertiliser Organisation said the country's fertiliser is re-exported mostly to Zambia, Mozambique and Zimbabwe.
Re-exports are foreign goods exported in the same state they previously imported.
The assessment further indicates that Malawi does not produce inorganic fertilisers, as such, all inorganic fertilisers leaving the country have been brought in and either blended or exported in the original form it entered the country.
Reads the assessment in part: "There are unofficial exports to neighbouring countries, but we currently do not have the estimated volumes.
"It should be noted that some fertilisers bought by farmers through the subsidy programme cross the border to neighbouring countries illegally; hence, the apparent consumption is an estimated figure."
Some of the local fertiliser is re-exported
Speaking in an interview on Friday, agriculture policy development analyst Tamani Nkhono Mvula said re-exports of fertiliser are a cause for concern because Malawi does not manufacture fertiliser.
"If we export the little we have, it means the market is failing to absorb the commodity regardless of the demand," he said.
Fertiliser Association of Malawi executive administrator Mbawaka Phiri said in an interview on Thursday that re-exports of fertiliser are guided by market forces.
She said: "Re-exports usually go to Zimbabwe or Zambia which are inland and, therefore, might go through Malawi via one of their import routes. In that case, the stock was never meant for Malawi to begin with.
"Alternatively, it may be stock that has no market here and companies that have regional offices elsewhere may transfer the stock to more active markets."
Phiri said it could also be that local companies are just responding to orders from the neighbouring countries further inland.
From 2020, the Malawi Government has been implementing the Affordable Inputs Programme (AIP), which has increased the annual fertiliser demand to about 500 000 MT
Let us know what you think of this article and remember to add us on our facebook and follow us on our twitter. Come back daily for more Malawi business news.
Quick Links: Download Business eBooks | Ten Signs You Are An Entrepreneur | What is a Managing Director?
Latest posts by Vanessa Banda
(see all)