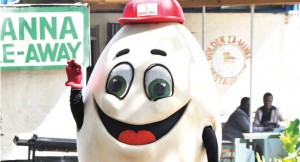 Few patrons at trade fair
Apart from the fewer number of exhibitors at the on-going Malawi International Trade Fair, The Business Times has also observed a low turnout of visitors to the fair.
A visit to the fair over the past three days shows that most of the patrons are largely school going kids and a few adults sampling the items displayed in the pavilions.
One visitor observed that the fair has changed from the way it used to be some years ago when the place was always filled up with serious patrons such as prospective clients for the exhibitors to the last day.
He said even consumers could take advantage of the fair to buy goods on bargain.
"People could scramble for items. I remember there were student who could come on trips from various institutions. This was a place where people could come and get what they don't usually find in the ordinary shops," said Charles Chitukule from Namiyango.
Another patron described the fair this year as "generally boring" with less enthusiasm observed from both exhibitors and patrons.
"I have visited a few shops where the attendants did not even mind about our presence. They were busy chatting. In some pavilions, the people are not even there," she said.
She also there is lack of uniqueness on the kind of items displayed from what is usually found in the ordinary shops.
"Trade fairs have to be where we should find latest products on the market. We should also be able to have fun with kids as it used to be before," she said.
However, Malawi Confederation of Chambers of Commerce and Industry (MCCCI) Chief Executive Officer (CEO) Chancellor Kaferapanjira said the fair was better than the previous year's.
He said it was normal for Mondays and Tuesdays to attract less patronage and that the patronage was actually better this year than last year.
"We do have records basing on the gate collections and we know how many people come to patronise the fair each day, just yesterday [Tuesday] we had more than 500 people. That is more than what we had last year at the same time," he said
However, the observation about the limited variety of products on display at the fair was also observed by MCCCI Vice President, Arthur Chirwa, during the official opening of the fair last Friday which he attributed it to cash flow problems that the business communities is currently facing.
Chirwa said the business community is struggling to progress mainly because of the exorbitant lending rates in banks as well as the withholding of private sector arrears by government.
Latest posts by Vanessa Banda
(see all)