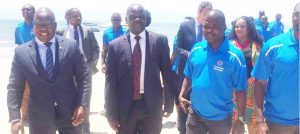 Financial market dealers challenged on innovation
Financial market dealers have been challenged to craft new financial instruments which would help facilitate the accumulation of capital from abroad to help strengthen the country's weak balance of payments position.
This was observed during the 2017 Financial Market Dealers Association (Fimda) annual conference held under the theme 'Balance of Payments: Financial Markets and Innovation.'
Reserve Bank of Malawi (RBM) Principal Economist for National Accounts and External Sector, Mark Lungu, said financial markets have an equally crucial role to play in ensuring that the country has a health balance of payments position.
Balance of payments, also known as balance of international payments, is the record of all economic transactions between the residents of the country and the rest of the world in a particular period. These transactions are made by individuals, firms and government bodies.
Lungu said financial markets could help in improving the country's balance of payments position by, among other things, creating financial instruments which could attract foreign direct investment into the country.
He said the central bank could work together with the dealers in this area by improving the regulatory environment to ensure that Malawi attracts more foreign direct investment.
Lungu said dealers also need to help Malawi, through their innovation, by coming up with products that would drive up remittances from the diaspora.
He noted that remittances from the diaspora remain low at around $30 million per annum against a projection of about $70 million per annum.
Lungu said studies have indicated that most Malawians in the diaspora send money home
through informal channels.
"There is need for the remittances to be channelled through formal channels and it is your duty as dealers to ensure that you design the right products to attract people in the diaspora to send money to Malawi through the formal system," Lungu said.
Ecobank Managing Director, Charles Asiedu, said, with shrinking margins in the forex market, dealers needed to start exploring other investment avenues to help in the growth of local banks.
Asiedu said time when banks could realise high returns in forex business, some as high as K30 per dollar was over.
"This calls for some serious thinking among dealers in as far as growing the revenues of your institutions is concerned," Asiedu said.
Fimda president, Grey Kazima, said the dealers appreciate the challenges ahead of them and will do all they can to deepen financial markets.
The conference attracted over 50 dealers from the capital, money and commodities markets and ended Sunday.
(Visited 1 times, 1 visits today)
Latest posts by Vanessa Banda
(see all)