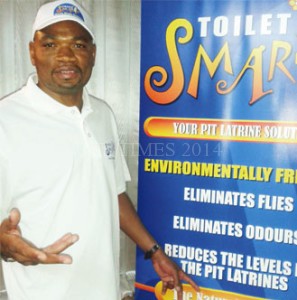 Firm launches toilet, septic tank dissolver
Firm launches toilet, septic tank dissolver
A Lilongwe-based company has introduced on the local market a new sanitary product for the management of pit latrines and septic tanks.
Waste Magic has rolled out a product called Toilet Smart for application in latrines and septic tanks to dissolve solids and prolong their life spans.
Waste Magic Chief Executive Officer Spark Mhango said Toilet Smart lowers levels in the pit latrines or septic tanks by six to eight centimeters per month when used every month and this prolongs the lifespan of the toilets by five to 15 years.
"There is a friendly bacteria that is found in the Toile Smart which speeds up the degradation process by converting the solids into water and carbon dioxide. It also reduces the odours and repels insects like flies and cockroaches," explained Mhango.
The company will be responsible for the supply of the product – which is imported from South Africa, in the country and will build a distribution network creating economic opportunities to other Malawians who will be involved in the distribution chain across the country.
Director of Health in the Ministry of Health Stone Kabuluzi said the product will support government's efforts of promoting the use of toilets in the country since it prolongs the life span of pit latrines.
"In the villages or urban areas, the issue of toilets is difficult sometimes and this becomes a healthy problem but with the coming of such products like Toilet Smart it helps a lot," said Kabuluzi.
Latest posts by Vanessa Banda
(see all)