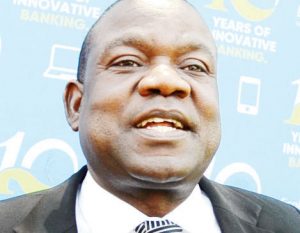 Firm partners Ecobank to finance agri-businesses
By Chimwemwe Mangazi:
One of the country's commercial banks, Ecobank, has partnered Global Communities Malawi to enhance access to finance for small and medium agri-businesses.
The deal would see the bank setting up a $5 million loans window for Small and Medium Enterprises (SMEs).
Ecobank Managing Director, Charles Asiedu, said the partnership is targeting players in the agriculture value chain.
He said the bank has set measures to facilitate growth of the businesses.
"We are accessing $5 million but, if the utilisation between now and mid next year is robust, we have a chance to even double the amount. The amount for each SME ranges from $50,000 to $1 million, but we would not want to benefit only five people but multiples so that the impact to the economy is also significant," Asiedu said.
Global Communities Programme Manager, Nobel Moyo, said the partnership falls under the Agribusiness Investment for Market Stimulation initiative supported by the United States Department of Agriculture which aims at catalysing the lending to agribusiness SMEs.
"We are targeting agribusiness and we are looking at those who can have an annual turnover of between K350,000 to K1,000,000 from the business," Moyo said.
Minister of Agriculture, Irrigation and Water Development, Joseph Mwanamvekha, said the partnership would complement government's efforts to develop the agricultural sector.
He said the government wanted to see the sector meaningfully contributing towards economic growth and development of the country.
"We are always encouraged when we see financial institutions exploring frameworks for scaling up their financing models for agri-business so that they can harness emerging market opportunities both within and beyond our borders," Mwanamvekha said.
A recent study by the Food, Agriculture and Natural Resources Policy Analysis Network shows that lack of proper financing structures, poor infrastructure and lack of structured markets continue stifling growth of small and medium agri-businesses in the country.
Stakeholders recently warned that input of agriculture to the Gross Domestic Product would continue declining if Malawi maintains its over-reliance on tobacco as a major foreign exchange earner.
Already, the sector's contribution to the economy continues to decline due to natural calamities, lack of stable markets and lack of funding for small scale farmers, among other challenges.
Latest posts by Vanessa Banda
(see all)