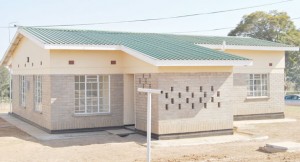 Firm plans 3,000 new houses in Lilongwe
A private company plans to construct 3,000 new houses in the city of Lilongwe to address the growing housing challenges urban dwellers are experiencing.
Enterprise Development Holdings (EDH) said the houses will be constructed in the next three years.
The first site of the project is at the upcoming suburb near Airwing called Westland where three new urban communities called Jacaranda, Acacia and Heights will be built.
"We expect that about 1000 families will move to their houses at the site in December next year," said EDH Managing Director, Siku Nkhoma, in an interview.
The EDH, through what it calls Lilaga Communities project, will have two financing arrangements that include employer assisted housing scheme and cash payment by the beneficiaries, according to Nkhoma.
She said EDH has capacity to handle medium to large scale housing projects at a cost lower than the industry average because of systems that offer project management competence and economies of scale.
The project is expected to contribute to the provision of decent houses in the capital city where no new major projects are taking place by Malawi Housing Corporation, City Council or private investors despite the ever growing demand.
EDH has been involved in low cost housing projects having implemented several projects under Center for Community Development (CCODE) that has constructed houses in Lilongwe, Blantyre, Mzuzu, Salima and Kasungu, targeting the low income earners.
Malawi requires 21,200 new houses every year to meet the increasing housing demand in the country's four main cities, according to the 2010 UN Habitat profile.
Malawi Housing Corporation (MHC) Chief Executive Officer, Wezzie Mkandawire, disclosed recently that MHC plans to construct 25,000 housing units in the cities of Blantyre, Lilongwe and Mzuzu by 2025.
(Visited 56 times, 56 visits today)
Latest posts by Vanessa Banda
(see all)