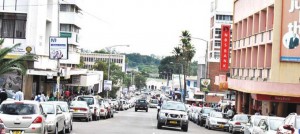 Firm sees strong GDP growth in 2017
Investment management and advisory firm, Nico Asset Managers, says it expects economic activity in the country to pick up to 3.9 percent in 2017 from 2.5 percent in 2016.
In its 2016 Annual Economic Report, Nico Asset Managers says the strong growth will be led by agriculture as production revamps from a contraction caused by drought in 2016.
It further said plans to expand cash crops beyond tobacco should register some success in 2017, supported by firmer global prices for soya beans, tea and sugar.
"Although tobacco production is expected to recover from the lows of 2015 to 2016, weak global demand, weather shocks and environmental degradation mean that the long-term structural decline.
"Outside of the agricultural sector, growth is likely to be lackluster," reads the report in part.
The firm notes that coal production which has fallen by 75 percent since 2014 owing to low prices is unlikely to emerge as a key driver of growth in 2017 to 2021.
Nico adds that Malawi's mining sector will continue to struggle to compete with mines in neighboring countries.
"Implementation of investment projects as highlighted in the Malawi investments compendium document may boost growth in the long term if the projects are successfully implemented.
"These projects are expected to promote the country's growth prospects in the long term. These are projects such as the development of a niobum mine, commercial fish farming, the construction of new hotels and a cable car resort in Mulanje," reads the report.
If successful, the report says, the projects will lead to better infrastructure and improved power generation which will aid the manufacturing industry and other business.
Government is also launching agricultural projects such as commercial farming utilizing solar powered irrigation, commercial dairy production, afri seed production and development of a horticulture farm at Kamuzu International Air-port.
The country is also investing in hydropower and coal powered plants which may substantially improve economic growth.
Power shortages contributed to the subdued economic activity in 2016 as business were unable to perform to their full capacity and were burdened by the high costs of using generators and solar energy.
Nico Asset Managers says risks to economic growth in 2017 are high. The firm has pointed out government debt levels which may increase the budget deficit, high lending rates and adverse weather conditions as some of the risks.
"Lower global commodity prices and un-competitive exports will also add to the risks. The insufficient power supply may also hamper productivity in the country.
"Growth in 2017 will hinge on the expansion of agricultural production and improved investor sentiment as well as innovations in the mining sector," reads the report.
According to Nico, growth of the economy will boost donor and investor confidence hence in-creasing private sector activity and improving the stock market performance.
On international relations, the firm says the resumption of the IMF programme in March 2016 is slowly restoring donor confidence in the government's economic management after concerns over corruption and fiscal laxity led to widespread aid freeze in 2013.
However, Nico says the slow pace of the public financial management reforms signal that ties with donors will remain strained.
"Most donors will nevertheless remain engaged through project-based grants and off-budget support to non-governmental agencies. The government will continue to seek external support from non-traditional partners including China and India, and their economic presence in Malawi is expected to grow.
"Relations with Tanzania will remain strained by dispute over the countries' border in Lake Malawi although it is expected to be resolved diplomatically," says Nico Asset Managers.
Analysts believe time has come for Malawi to translate economic growth into improvement of people's lives.
(Visited 15 times, 15 visits today)
Latest posts by Vanessa Banda
(see all)