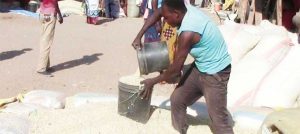 Firm sees widening current account deficit
By Taonga Sabola:
Investment management and advisory firm, Nico Asset managers, has said it expects food imports to widen Malawi's current account deficit in 2018.
A current account deficit is a measurement of a country's trade where the value of goods and services it imports exceeds the value of goods and services it exports.
In its September 2018 Economic Report released at the weekend, Nico Asset Managers says it expects the current-account deficit to widen from 16.2 percent of Gross Domestic Product (GDP) in 2017 to 17.1 percent of GDP in 2018 as food imports increase.
The firm says, contingent on normal rainfall patterns, the shortfall is expected to narrow to 14.3 percent of GDP in 2022 as agricultural exports recover and food imports decline.
According to the Famine Early Warning System Network (Fewsnet), Malawi's cross border maize import accelerated by 77 percent in July 2018 as compared to the same period last year.
Fewsnet further said data from the Agricultural Market Information System shows that maize prices are beginning to increase in most markets across the country.
Malawi had a relatively poor growing season last year as it was hit by a double impact of dry spell and a fall armyworm attack.
The fall armyworm attack resulted in President Peter Mutharika declaring 20 of the country's 28 districts disaster areas in December 2017.
Nico Asset Managers says import growth will continue to increase as domestic demand for foreign goods remains prevalent.
"This is especially true as expenditures take place in preparation for the 2019 elections. Since Malawi has begun the lean season earlier than expected and the production of irrigated maize for 2018 is low, high demand for maize will also push up the import bill.

"Due to the global rise in oil price, Malawi's services balance will continue to be in deficit as the rise in oil prices translates to higher transportation costs for exporting and importing goods," Nico Asset Managers says.
The firm says it expects export performance to be supported by the higher production of cash crops such as tea, soy beans, and sugar.
However, the firm says subdued global prices will hamper the pace of revenue growth. Among other factors, export growth will be hindered by a lack of finance for small scale farmers and their reliance on weather patterns, low technology agricultural techniques.
"These continue to expose the external sector to sudden terms of trade shocks. In order to cushion the country against these shocks, and to improve competitiveness, there is need to accelerate the diversification of exports and implement structural reforms aimed at developing capacity to export," reads the report in part.
Latest posts by Vanessa Banda
(see all)