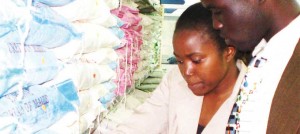 At a time when most consumers are struggling to make the most of their disposable incomes in the face of tough economic times, enterprises are reported to be engaging in more abusive trading practices to swindle unsuspecting consumers.
In the 2015/2016 financial year alone, 153 consumer complaints were processed, double the number of complaints received in the previous year, the Competition and Fair Trading Commission (CFTC) reports.
Common violations include supply of defective products and excluding liability, supply of harmful products which did not meet prescribed consumer safety standards and misrepresentation on the product pricing, among others.
Director of Consumer Welfare and Education at CFTC, Lewis Kulisewa, confirmed in an emailed response that some companies are deliberately engaging in deceptive practices to swindle consumers of their hard earned money.
"For instance, when you have an enterprise repackaging an expired product and replacing expiry date labels with future dates, there can only be one reason, swindling consumers. Likewise, when enterprises openly declare goods once purchased are not returnable or exchangeable, there is a calculated attempt to avoid liability on defective products," he said.
Interventions by CFTC in the past three years have so far helped consumers to recover money in excess of K15 million.
"A culture of non-compliance with competition and fair trading laws is entrenched within the trading community. That has to change. Consumers must be vigilant and reject any form of abuse from traders. We encourage consumers to report any suspected violations of their consumer rights to the Commission for redress," Kulisewa said.
Earlier in July, CFTC said top ten supermarkets conducting business in the cities of Blantyre and Lilongwe were craftily engaging in deceptive practices and in the process violating consumer welfare. In its findings, CFTC said the most common ma lpract ices included displaying lower prices on the shelves and charging higher prices at the till, displaying lower overall amount on the till screen while the printed transaction receipt shows a higher amount, displaying edible food products bearing two expiry date labels or in other cases not displaying prices at all.
The findings corroborated with investigations that we carried out earlier in February and June in which we found that cash-strapped consumers are unknowingly losing more of their hard earned money at the till of some retail shops in the country. In our investigations, we found that some till operators either charge for goods one did not purchase or use wrong codes for products.
We also discovered that some retailers were quoting or tagging price without Value Added Tax on their shelves only to make consumers pay a higher price with the tax.
This is despite the hyper inflation rate prevailing in the country which has eroded buying power. The perpetrators take advantage of the gullibility of the Malawian consumer to make people pay more money for goods or charging them for goods they did not purchase in the first place.
But CFTC says one of the key pillars in its five year strategic plan is to enhance advocacy and mass awareness on how consumer interests could best be protected.
"Through targeted consumer surgeries and business clinics, the Commission has been able to sensitize consumers and other stakeholders including the business community on their rights and obligations," Kulisewa said.
But he said while this is helping improve voluntary compliance, there is still more work to be done from the regulatory perspective.
"This is why the Commission is implementing strategic reforms which seek to introduce on the spot fines for blatant consumer violations. It is our strong belief that the imposition of fines will go a long way in promoting voluntary compliance with the law. As part of the same reforms, laws that are inconsistent with the Competition and Fair Trading Act will be harmonised to smoothen the enforcement process. This includes the review of the Consumer Protection Act (CPA) to designate the Commission as the enforcement agency of the CPA," he said.
(Visited 1 times, 1 visits today)
Latest posts by Vanessa Banda
(see all)