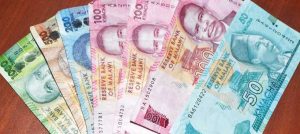 Firms see Malawi Kwacha depreciating
Days after closure of this year's tobacco selling season, investment management and advisory firms say the Malawi kwacha may depreciate further due to the significant current account deficit and weak foreign direct investment inflows.
The trend reflects uncertainties regarding Malawi's macroeconomic outlook and has also mainly been driven by the general strengthening in the value of the dollar among others.
Due to seasonality of the country's economy, the local unit has remained volatile and often loses its grip against major trading currencies after the end of the selling season for tobacco.
In their separate July 2017 monthly economic reports issued last week, Alliance Capital Limited and Nico Asset Managers, however, state that the good economic prospects and increased level of foreign exchange reserves may still cushion the magnitude of depreciation.
In its report, Alliance Capital Limited, for instance, says in the short term, demand pressure will remain subdued.
It says kwacha's equilibrium has in the recent past occurred at a rather elevated level, further supporting the downward pressure by dissuading demand.
The local unit has remained stable in the foreign exchange market against the dollar during a greater part of the last three months when tobacco trading was in progress.
The Alliance Capital report further states that despite volatility of the pound and the Rand, the local unit "will remain in range bound against the two currencies."
In July 2017, the kwacha marginally depreciated against all the major currencies, closing the month at K730.55 against the dollar, representing a marginal depreciation of 0.28 percent from the previous month.
However, in its report issues on Friday, Nico Asset Managers say the kwacha is expected to begin depreciating as the tobacco marketing season comes to an end.
The outlook is partly also premised on account of the significant current account deficit, weak investment inflows and low forex reserves.
The firm recommends stakeholders to deploy concerted effort towards stabilising the local unit, saying "a stable exchange rate may reduce the cost of imports in the short term."
(Visited 23 times, 23 visits today)
Latest posts by Vanessa Banda
(see all)