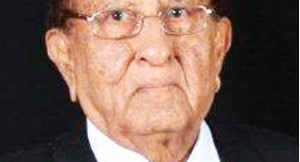 First Merchant Bank founder Anadkat dies
Founder of First Merchant Bank (FMB) Natwarlal Anadkat died in Blantyre on Saturday after battling a heart problem.
Business captains on Sunday described the death of Anadkat, fondly known as N.G in the business circles, as a big blow to the industry.
Anadkat came to Malawi in 1953 and is believed to be the most famous businessman of Indian origin in the country. In 1958, he started his own trading business.
After many years of trading, in 1995 Anadkat founded FMB.
From a humble beginning in 1995, FMB now has a countrywide network of 27 branches and agencies.
FMB has, since its establishment, enjoyed rapid growth and is now one of the leading financial services groups in Malawi measured by market capitalisation, market share and profitability. Over the years the group has garnered numerous internationally recognised awards for excellence in its operations.
One of the businessmen Praful Lakhani described Anadkat as a humble person.
"I will remember N.G for his humility as well as for the business advice he was giving the business community in Malawi," said Lakhani.
Another businessman Gulam Kharodia said Malawi has lost a great and visionary businessman in Anadkat.
His son, Hitesh Anadkat, who is currently vice chairperson of FMB described N.G as a loving father and philanthropist.
"He is a legend. It's not only about his business success; it's also about the number of lives he touched throughout the world.
"He was humble. Even when he had just a fraction of what he got, he was the same human being. He never lost his temper with anybody," said Hitesh.
Remains of the late Anadkat will be cremated today at the Hindu Crematorium in Blantyre at 3 pm.
He is survived by a wife, three children and nine grand children.
(Visited 1 times, 1 visits today)
Latest posts by Vanessa Banda
(see all)