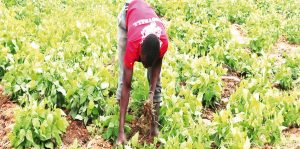 Fisd for irrigation farming | The Times Group
The economic wellbeing of over 300 farmers in Group Village Head Mvuto's area in Lilongwe is expected to be boosted following the successful implementation of an irrigation scheme in the area.
The project is being pioneered by the Foundation for Irrigation and Sustainable Development (Fisd) Malawi.
The scheme, covering 90 hectares, has transformed what used to be a bare land into a farm with 30 hectares currently covered with bean seed plantations.
The development comes at a time when the country is trying to explore opportunities in irrigation farming in a quest to transform the economy.
During the recent sitting of Parliament, government proposed the establishment of an irrigation authority to spearhead large-scale irrigation initiatives in the country.
Some of the farmers we spoke to said that they expect their lives to improve as they are assured of ready markets after harvesting.
"We are very happy because we believe that after selling our produce, we will be able to afford some of the household needs such as food, clothing and sending our children to school," Dora Makwenda, said.
Fisd Programmes Director, Kondwan i Nanchukwa, revealed plans to continue increasing the hectarage under irrigation.
"We signed a contract with the EU in September 2016 and they have funded the project. We have started with the 30 hectares, but we are moving forward and by next year, we will cover the entire 90 hectares," Nanchukwa said.
Fisd has also engaged one of the seed manufacturing companies in the country, Seed Co, to provide a ready market for bean seeds that will be produced.
(Visited 21 times, 21 visits today)
Latest posts by Vanessa Banda
(see all)