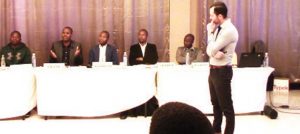 Fisd trains managers | The Times Group
People in leadership positions from both the public and private sectors have been advised to be self-assertive and be ready to break traditional systems if the organisations they are working for are to prevail in their undertakings.
The advice is coming from United States-based international facilitator, speaker and coach for Managing Change in Attitude (MCA), Raynor Boreham.
Boreham was in the country facilitating an attitude and mindset change workshop for managers of the Foundation for Irrigation and Sustainable Development (Fisd)) Malawi limited in Lilongwe.
He said that the problem is common among managers across the continent.
Boreham further said that this is the reason some companies have failed to remain in business and other failed to grow. He then said in the long run, this reflects on the performance of the economy as is the case in Malawi.
"You cannot have the right to lead other people until you learn to lead yourself. The problem that we commonly came across is leaders who do not understand that they are in a particular position to serve and not to be served," Boreham said.
"The most important thing is for you to understand that you are dealing with people and not objects. You are dealing with human beings and leadership is humane, it is your responsibility to help and develop the people," Boreham added.
Fisd Limited, Managing Director, Frank Mwenechanya, highlighted that as an organisation, they understand the need to impart knowledge in managers on people management and attitude, which will translate into growth of the company.
"We are just making sure that we are up to date. As a company, we are never satisfied. We are just ten years but we also have to keep on growing. That is why we usually send our employees abroad to get more skills and this time around, we are focusing on attitude," Mwenechanya said.
25 managers from the company attended the workshop.
(Visited 8 times, 8 visits today)
Latest posts by Vanessa Banda
(see all)