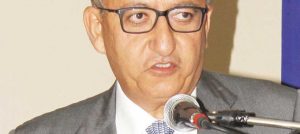 FMB delists from the stock market
First Merchant Bank Limited (FMB) on Tuesday finally delisted from the Malawi Stock Exchange (MSE) following a successful transfer of shares in FMB to FMB Capital Holdings (FMBCH).
The development brings to an end FMB's 11-year romance with the MSE that dates back to June 19 2006, bringing the number of listed companies on the local bourse back to 13.
The bank said in a statement on Tuesday that, immediately after the acquisition of 100 percent of issued share capital of FMB by FMB Capital Holdings PLC, effective December 19, FMB shares will no longer be traded or quoted on the MSE.
FMB early this year announced plans to establish a holding company, FMBCH, domiciled in Mauritius, which provides a better platform to raise capital than Malawi.
FMBCH was later listed on the MSE on September 18. FMBCH Chairman, Hitesh Anadkat, further revealed plans to dual-list the holding company on the Mauritius stock market.
"Firstly, we need to be capital ready for banks in four and probably five countries, instead of just one. It has become quite common for central banks to dramatically change minimum capital requirements. We experienced this in Zambia and Mozambique.
"Secondly, every bank will need to operate with more capital under Basel II. Lastly, our group wants our banks to become a bigger player in the region in the coming years, which will require capital," Anadkat said on the sidelines of FMBCH listing.
MSE Chief Executive Officer, John Kamanga, in September hoped that FMBCH would maintain the FMB counter on the market as is the case with Press Corporation Limited and its subsidiary National Bank of Malawi.
FMB is a public limited liability company incorporated in Malawi under the Malawi Companies Act, 1984.It has two wholly owned subsidiaries incorporated in Malawi, namely the Leasing and Finance Company of Malawi Limited, a licensed financial institution engaged in deposit taking and asset finance, and FMB Capital Markets Limited, a licenced portfolio manager.
Latest posts by Vanessa Banda
(see all)