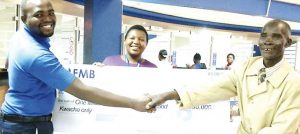 FMB 'Makwacha' boosts agriculture | The Times Group
FMB has said it will continue to give farmers a chance to open Makwacha Accounts for free in an effort to narrow the gap between the banked and unbanked population.
The bank made the commitment in Lilongwe when it presented a cheque worth K1.5 million to Malata Januwale. Januwale emerged the winner of the grand prize in the Mgodi wa Makwacha promotion the bank was running until the end of August.
Speaking during the handover ceremony, Januwale thanked the bank for allowing him and other tobacco farmers to open Mgodi wa Makwacha accounts free of charge. He said the incentive has enabled him to boost his savings.
"I will be able to send my son to school. He was on the verge of dropping out," he said.
FMB Agri-Business Manager, Gomezgani Kakhuta, said it is the institution's wish to make significant impact on the economic wellbeing of its customers, hence their commitment to continue with the initiative in the future.
"For us, this is a very fascinating moment, where we are giving funds to the lucky customer and the most important thing, is what he is going to do with the money. He is looking at buying fertilisers for the next growing season and that means, we have been able to sustain his farming activities," Kakhuta said.
He further pointed out that the prize will sustain Januwale's social wellbeing hence fulfilling the promotion's purpose.
Since the start of the promoting, FMB has given out K5 million to lucky customers in monthly prizes.
(Visited 17 times, 17 visits today)
Latest posts by Vanessa Banda
(see all)