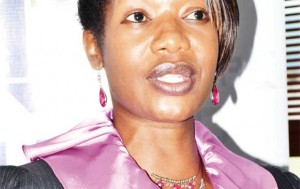 FMB promises more | The Times Group
FMB has said it will continue to innovate and introduce banking solutions aimed at making the bank's products easily accessible to customers.
Under its brand promise, Do More with FMB, the bank says it has created various platforms through which its customers can make transactions within the shortest time possible.
FMB Head of Marketing, Sylvia Mataka, said the bank remains committed to simplify banking for all segments of the banking community through innovative products spanning from money transfers, mobile money to foreign exchange transactions and bill payments.
"The remarkable innovative products and services introduced by the bank over the years towards meeting customer needs provide a solid platform from which the bank is able to make and deliver this promise.
"Our dedication to hard work and particular emphasis on quality to customer needs are not only recognised in the products and services we offer, but our constant reaffirmation of commitment to service excellence, simplicity and convenience," she said.
She added that the bank's drive for quality conforms with its desire to continuously deliver innovative and convenient payment options to customers.
"Our innovations in the digital banking space have been possible because of our huge investments in building efficient, trustworthy platforms backed by a formidable team of hardworking staff.
"We assure our customers that we are committed to continually bringing the best in the financial technology space to ensure they always have the best and most convenient banking experience with all our service channels," she said.
In promising its customers to Do More with FMB, Mataka said the bank will essentially continue to leverage technology to increase the depth and understanding of customer preferences and changing needs.
" Do More is about making sure that all bankable segments are able to access much more than just traditional banking products. FMB understands that customer needs have evolved over time and gone are the days when one could afford to make time to go to different service providers to settle their bills or other financial obligations. As dynamics change, the bank has responded by putting the convenience of its customers first," she said.
(Visited 49 times, 49 visits today)
Latest posts by Vanessa Banda
(see all)