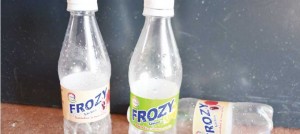 Foreign drink floods market
Frozy, has taken the Malawian market by storm and is threatening the survival of local industry players.
Our investigations show that the drink, which is selling at an average price of K200 per bottle is slowly becoming a household name with most shops stocking it.
The development comes at the time when government is in the middle of implementing the Buy Malawi Strategy which aims at promoting the consumption of local products.
Frozy has become a cheaper alternative to locally made soft drinks which, on average, sale at above K200 per bottle.
Travelling between Blantyre and Lilongwe, trading centres are full of vendors selling the drink. Joe Gama, a fizzy drink vendor in Limbe admitted that Frozy has taken the market by storm.
"Most Malawians are opting for it because of its cheap price. Imagine K200 plus a plastic bottle, it's an attractive offer," Gama said.
His sentiments were shared by Arnold Chabwera, a fizzy drink vendor at Lilongwe Bus Depot. "To be honest, the popularity of this drink is spreading like wild fire. If not careful, local players may be out of business," he said.
According to the traders, it is selling at softer prices because most of it is smuggled into the country. Information on the bottle shows that the drink is manufactured by Yaafico Industrial LDA of Matola in Mozambique.
Ministry of Trade Spokesperson, Wiskes Nkombezi, while confirming the influx of the fizzy drink on the local market, could not indicate whether it is being brought into Malawi illegally.
Nkombezi said the Malawi Revenue Authority (MRA) is responsible for making sure that all the imported goods pay the right amount of taxes.
MRA Spokesperson, Steven Kapoloma, could not be reached for comment yesterday.
The local fizzy drink market is dominated by Carlsberg Malawi Limited but the company's Spokesperson, Towera Munthali, asked for more time to establish the impact that Frozy has had on the company's bottomline.
(Visited 216 times, 216 visits today)
Latest posts by Vanessa Banda
(see all)