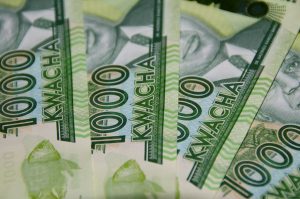 Foreign exchange market mixed in August
The kwacha exhibited mixed performance in August, appreciating to some currencies in the foreign exchange basket while also performing poorly to others, according to a monthly economic report for August released by Alliance Capital Limited.
The report shows the kwacha remained quiet stable against the dollar, trading at K724.16 on average while depreciating to the pound sterling in the first week of the month under review, to trade at K950.83.
This was on the basis of volatility of the British Pound after the Bank of England announced that interest rates would rise more than the market expected.
"However, as the excitement waned, the pound dropped against the dollar on the global market reaching its lowest level in two-months. This saw the pound trading at 930.77 at the end of the month from K950.83," the firm said.
Against the South African rand, the kwacha depreciated during the month, as the rand rallied on the global market due to a weaker dollar.
The kwacha only gained once during the month when the South African president survived a vote of no confidence that could have meant the end of his administration and the rand moved from K54.24 to K55.11.
Looking forward, Alliance Capital expects the kwacha to remain stable in the foreign exchange market against the dollar.
The firm also forecasts the local currency to remain range bound.
"Despite volatility of the pound and rand, we expect the kwacha to remain range bound against the pound and rand.
"This is premised on demand pressures, which remain subdued. Second, the kwacha-dollar equilibrium has occurred at a rather elevated level supporting the downward pressure further by dissuading demand," the report said.
(Visited 48 times, 48 visits today)
Latest posts by Vanessa Banda
(see all)