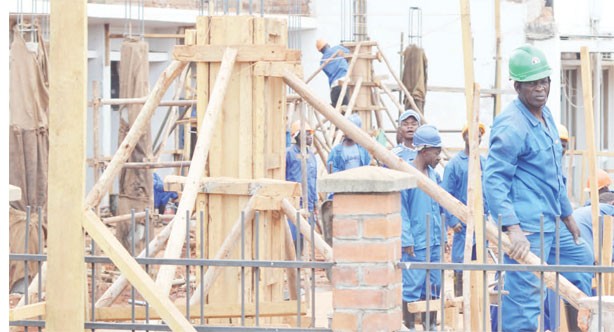 Foreign firms dominate in construction projects
A study by the National Construction Industry Council (NCIC) has revealed that of the K1 trillion in major construction projects currently underway in the country, foreign companies dominate contracts with local companies only handling two percent of projects.
Meanwhile, government has approved a new construction policy which is aimed at boosting contribution of the sector to the Malawi economy.
The study, whose data was collected through NCIC's project registration records over the past two years, captured about 60 percent of the overall projects underway in the country.
Unveiling the results of the study in Blantyre at the opening of its new regional offices for the south last week, NCIC Chief Executive Officer Linda Phiri, admitted that Malawians participation in construction projects is too low.
She said there is therefore need for concerted efforts by all stake holders to ensure that Malawi builds adequate capacity for local construction companies to increase their share of the cake in construction projects.
"If more local companies get contracts for most of the projects, a greater portion of this money would be retained in Malawi," she said.
According to Phiri, the study indicates that the construction sector has the potential to contribute up to 10 percent of the country's GDP.
An independent engineering and construction expert, Wilson Chirwa, also lamented the low participation of local companies in the construction sector.
He said the market share remains in favour of international firms.
"We need to work on a policy that would make the locals have an equal share of the market," he suggested.
Minister of Transport and Public Works, Francis Kasaila, has meanwhile revealed that government has approved a new construction policy.
Kasaila said through the policy, which was approved during a cabinet meeting last Thursday, government aims to cover the existing gaps which include ensuring equal participation of local companies from the existing market share.
"There have been a number of challenges faced by the sector and local companies in particular. The new policy will facilitate capacity building among players," said Kasaila.
Among other approaches adopted to curb challenges  faced by the sector, according to Kasaila, include improvement of capacity and performance of the local contractors and consultants, improvement of public sector delivery capacity and improvement of the performance of the informal construction sector.
"We would like to see the sector contributing more than 10 percent of the country's GDP. It has the capacity to achieve that," said Kasaila.
Latest posts by Vanessa Banda
(see all)