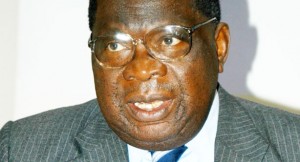 Forget budgetary support—Goodall Gondwe
As the local economy continues to sail through troubled waters, Finance Minister Goodall Gondwe says Malawians must forget the possibilities of bilateral donors bringing back their aid purses to Malawi, saying the donors are pulling out of a number of countries.
Gondwe was speaking in Mangochi on Saturday at the start of the 2015 Financial Market Dealers Association (Fimda) annual conference held under the theme Financial Markets and Productive Efficiency in the 21st century.
Bilateral donors closed their aid taps for Malawi in November 2013 following revelations of massive looting of public funds by greedy civil servants and businesses in what is known as the cashgate.
Gondwe said there are other Malawians who believe government must reform so that donors may bring back their budgetary support purses.
"I would like to emphasize this very strongly. We should not proceed on the premise that the donors will come back with their budgetary support purses. We could have budgetary support from the World Bank, the EU and the African Development Bank but I would have difficulty in proceeding on the basis of expecting that the bilateral donors will come back because they are out of countries such as Tanzania, Rwanda, Zambia and Mozambique, I think and they are getting out of many countries," said Gondwe.
He further said expecting donors to come back is not a realistic expectation.
"Because of that we will have fewer resources than needed and therefore we will have to adjust to the new figure," he said.
Gondwe noted that there are three options on the table in as far as adjusting is concerned.
Mobilising more resources locally, according to Gondwe, would be one option, with being efficient by doing more with less as another option.
He noted that cutting expenditures on lines considered as luxuries would be the third option.
Gondwe further painted a gloomy outlook of the economy arguing that news from the weather men indicates that Malawi may have a repeat of the bad weather that hit the country in January 2015.
"If that really happen, then we should expect floods or a dry spell and we at capital hill are doing everything possible to prepare for that, "he said.
The conference attracted 80 dealers from the forex, money, capital and commodity market.
Fimda president Alfred Nhlema described the meeting as very important to the dealers in sharing ideas on how to improve market operations.
(Visited 58 times, 58 visits today)
Latest posts by Vanessa Banda
(see all)