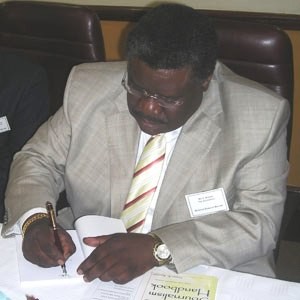 Former RBM governor Victor Mbewe dies
Former Reserve Bank Governor and Chairman Victor Mbewe died at Blantyre Adventist Hospital in Blantyre at mid night on Wednesday after a long illness.
Born on July 4, 1952, Mbewe once served at Commercial Bank of Malawi chief executive officer from the late 1990s up to 2005 when he was appointed governor of RBM.
Mbewe served as RBM Governor from 2005 to 2009 before he ventured into private business which saw him opening the Dorvic Hotel in Blantyre.
Indigenous Businesses Association of Malawi president Mike Mlombwa described the demise of Mbewe as a big blow to the business community in Malawi.
"He was an inspiration to indigenous businessmen. He will be greatly missed," said Mlombwa.
Thom Lupiya, a member of the family said Mbewe was a pillar of strength to the family.
"He was a uniting factor to the family. He was our source of wisdom," said Lupiya.
Until his death on Wednesday, Mbewe was the United Democratic Front (UDF) director of Economic Affairs.
UDF spokesperson Ken Ndanga said yesterday the party is shocked by the death of Mbewe who he described as pivotal in the operations of the party.
"We in the UDF are greatly shocked by the demise of Mbewe. He was very instrumental in the operations of the party," said Ndanga.
According to another family member Chris Kanyuka, Mbewe is survived by a wife and children.
Kanyuka said remains of the late Mbewe will be laid to rest at Catholic Institute (CI) cemetery in Blantyre on Sunday.
(Visited 1 times, 1 visits today)
Latest posts by Vanessa Banda
(see all)