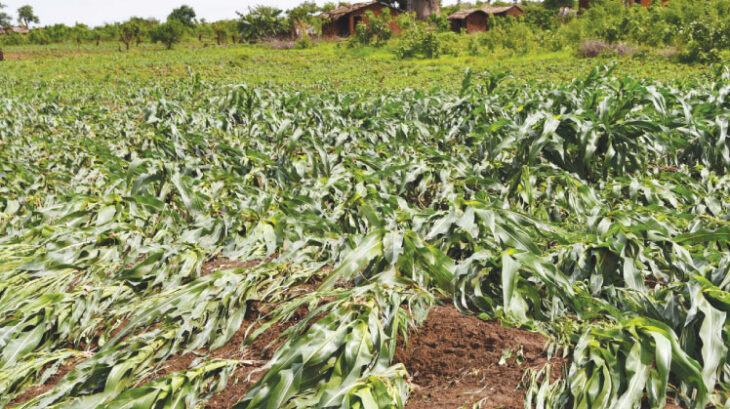 Cyclone Freddy knocks down Malawi economy
Reserve Bank of Malawi (RBM) has painted a gloomy picture on the economic prospects for the country due to the impact of Tropical Cyclone Freddy.
The bank also said the pressure on foreign reserves and exchange rate are expected to remain a risk in the short to medium term.
RBM Governor Wilson Banda disclosed this during a public lecture on investment opportunities in the financial sector, current and emerging trends affecting Malawi's economy organised by the Lilongwe University of and Agriculture and Natural Resources (Luanar) and monitored on Zoom.
He said despite the economy experiencing a phase of macro-economic turbulence, there is hope for recovery.
Banda said: "In 2023, domestic real gross domestic product [GDP]is expected to rebound and grow by 2.7 percent from 1.2 percent. However, the projection will be revised to incorporate effects of Cyclone Freddy.
"However, the pressure on foreign reserves and exchange rate are expected to remain a risk in the short to medium term as the tobacco sales this year might not be adequate to fully dampen the existing demand of foreign exchange."
In 2023, Ministry of Finance and Economic Affairs projected the growth rate at 2.7 percent on account of improved supply of electricity and favourable weather conditions.
During the year, agriculture production was expected to pick up with favourable weather conditions expected in the 2022/23 growing season as reflected in the crop and animal production sub sectors which were expected to grow by 3.5 percent compared to one percent last growing season.
Growth in this sector was expected to improve domestic production as the economy depends on the agricultural sector for exports as well as for inputs in the manufacturing, wholesale and retail sectors which were expected to derive demand from the transportation and storage sectors.
However,following Tropical Cyclone Freddy, which hit the country last week, there has been loss of life and property and disruption of business.
Apart from disrupting water and electricity services, the cyclone also disrupted service delivery in government offices.
Last week, President Lazarus Chakwera declared a State of Disaster for areas hit by the cyclone as part of an appeal for national and international assistance for the victims of the cyclone.
Minister of Finance and Economic Affairs Sosten Gwengwe while admitting that admitted that the needs of the people affected by the cyclone are huge, said government has set aside K1.6 billion to help those affected by Cyclone Freddy.
The minister also said that some of the money in the yet to be approved K3.7 trillion budget will be redirected towards Cyclone Freddy Recovery pkan.
Meanwhile, an analysis by Economics Association of Malawi, Oxfam and Luanar projects the budget deficit to worsen by from the projected K1.32 trillion to K2 trillion in the aftermath of the cyclone, which has greatly affeced energy and agriculture serctors.
Let us know what you think of this article and remember to add us on our facebook and follow us on our twitter. Come back daily for more Malawi business news.
Quick Links: Download Business eBooks | Ten Signs You Are An Entrepreneur | What is a Managing Director?
Latest posts by Vanessa Banda
(see all)