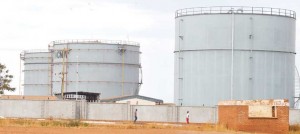 Fuel reserve meters fail test
The government has re-engaged the supplier and contractor of the strategic fuel reserves in the country, after fuel offloading meters were proven to be faulty.
The mishap, will delay completion of the works with operation cost likely to rise.
Extra cost and duration are not yet determined following the re-engagement of the supplier and contractor for replacement of the meters.
However, National Oil Company (Nocma), a government owned company spearheading the construction of the reserves in the three regions of the country, said the effect will be minimal.
Nocma said it was discovered at the technical commissioning stage, that loading meters did not comply with the Malawi Bureau of Standards (MBS) certification.
Other commentators, however, say averting such a scenario was possible, saying any further delay may still have both cost and operational implication.
Responding to The Daily Times questionnaire, Nocma Communication Officer, Telephorous Chigwenembe, said the government is now discussing with the contractor to replace the non-complying loading meters.
Chigwenembe said the actual construction of the tanks was completed sometime back, lest for the offloading meters which he says will be replaced once discussions complete between the government and the contractor.
"Technical commissioning of the depots [tests using actual product, fuel], where you want to certify successful completion of all the works, was conducted and the offloading meters installed passed the tests. These were all successfully calibrated by the Malawi Bureau of Standards (MBS)," said Chigwenembe.
He also said the hydro test, freighting systems and all other tests were successfully conducted at the three depots as part of cold trials tests.
"On the supply of the loading meters for Lilongwe depot, we are waiting to be advised by the contractor on when these will be expected to be delivered," he said.
The strategic fuel reserves are being constructed by the Government of Malawi, and Nocma will take ownership and manage the facilities upon handover.
The reserves, once completed, will ensure security and stability of fuel supplies to the country. They are expected to improve the fuel stock days cover for the country by two months.
Malawi economy almost got to its knees in 2010 due to the fuel scarcity that crippled most sectors.
(Visited 104 times, 104 visits today)
Latest posts by Vanessa Banda
(see all)