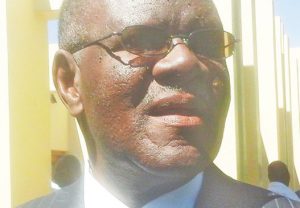 Fuel reserves efficient—Government | The Times Group
By Taonga Sabola:
Slightly over a year after President Peter Mutharika launched the country's strategic fuel reserves in Lilongwe, Natural Resources, Energy and Mining Minister, Aggrey Masi, on Friday re-launched the Blantyre reserves.
Masi said the reserves, which were belt to cushion the country from any possible fuel scarcity, are efficient.
He said the launch of the Blantyre fuel reserves is a milestone for Malawi and the Southern Region in particular.
The Blantyre, Lilongwe and Mzuzu fuel reserves give Malawi a combined storage capacity of 60 million litres, or two months of fuel cover.
"This is very exciting because, before the strategic reserves became operational, the country could only store fuel that could last us between 10 and 15 days. This was risky," Masi said.
The strategic fuel reserves are managed by National Oil Company of Malawi (Nocma). The firm started importing fuel for the reserves in June last year.
Masi said the government has connected the Blantyre and Lilongwe fuel reserves to the railway line as it ponders over the possibility of importing fuel using rail, an option he described as cheaper.
He said this could keep the cost of fuel low.
"I am also pleased to announce the resumption of operations of the fuel depot at Malawi Cargo Centres Limited in Dar es Salaam. This is yet another milestone we should celebrate. The strategic fuel reserves at Malawi Cargo Centres will not only generate income for Malawi but will also ensure that we have enough backup fuel storage, in case of any eventualities in the fuel supply chain.

"We are working tirelessly to have fuel storage facilities at Mbeya in Tanzania operational again," Masi said.
Nocma spokesperson, Telephorus Chigwenembe, said commissioning of the reserves confirms Nocma's readiness to serve through storage of fuel.
"The country is now safe in terms of security of fuel supply. When we have security of fuel supply, there is no need for people to raise prices of the commodity anyhow as we would have fuel all the time in the country," Chigwenembe said.
Mutharika commissioned the strategic fuel reserves on December 6 2017 at a ceremony held in Lilongwe.
The reserves were constructed with a loan from Exim Bank of India after the 2010 to 2012 fuel crisis.
Latest posts by Vanessa Banda
(see all)