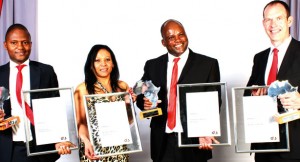 G4S Malawi wins African accolade
Private security company, G4S Malawi, has been awarded a G4S Group Overall Best Business Performance Award in Africa, beating 26 other business units under the G4S brand.
The company was awarded during the G4S Awards Gala, an Annual Africa Regional Conference event, which was recently held at Legend Golf and Safari Resort in Limpopo Province, South Africa.
"The overall award is given to the business unit which performs well against all sustainability measures related to people, business governance and community [work]," said G4S managing director, Colin Stanley.
He said as part of the G4S culture, the company recognises and rewards desired behaviour of individuals and teams that support the achievement of G4S business objectives and values.
He said a number of countries excelled during the past year and that a record amount of more than 83 nominations were received this year.
He said in addition to the overall winner award, G4S Malawi was also awarded for registering the most significant growth in the cash business.
"The management team improved the business significantly by creating a sustainable business environment which enhances stakeholder value," said Stanley.
He said G4S Malawi strives to meet customers' expectations by adopting a pro-active approach in managing risks and ensuring that controls are properly documented.
The company remains committed to serving its customers by providing the best integrated security solutions in the country, added G4S Sales Director, Medson Kalambule.
(Visited 17 times, 17 visits today)
Latest posts by Vanessa Banda
(see all)