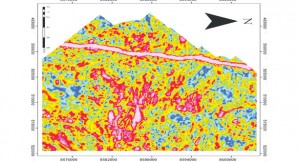 Geophysical data reveals mineral deposit prospect
The high resolution airborne geophysical data launched recently has revealed more detail compared to similar data acquired in 1985.
Spokesperson for mining in the Ministry of Natural Resources Energy and Mining, Levison Undi said studies done have identified the possibility of some mineral deposits in nine areas of the country.
"Looking at this data, one would observe some geological features that are now very clear than in the 1985 survey and some are visible in the current data but they were not visible or not very clear in the 1985 survey," said Undi.
He cited an example of the geological map of Kasungu area produced from the 1985 data, saying looking at the same area from the current data, one would observe a geological feature which is very visible.
The high resolution air borne geophysical survey is a component of the Mining Governance and Growth Support Project co-financed by the World Bank and European Union.
Undi said nine anomalous areas will be targeted for ground follow ups to separate areas which appear promising and those which look barren. Drilling will also be done to obtain samples to confirm specific minerals being hosted in those areas, said Undi.
He said the ministry is currently in the process of procuring a consultant to do data analysis and interpretation for the whole data set.
Undi said the ground follow up will help experts understand which minerals could be explored for mining.
Apart from Kasungu, Undi said other areas with interesting geological features from the new survey data include Lower shire Basin, Mlindi ring structure, Chitipa and Mchinji dykes.
"The Mchinji dyke has high magnetic signal and can be a source of chromium, lead and zinc," he said.
Other prospective minerals identified include chromium, nickel, copper and cobalt.
In the Lower shire basin, Undi said there is a possible petroleum trap in the eastern part of Ngabu fault which also needs to be confirmed with ground follow ups.
He was, however, quick to point out that there is still more work that needs to be done before actual mining can considered.
"It could take more than 15 years for actual mining to start, so we need to manage our expectations as a country," he said.
Undi said, however, the newly acquired data will be used for exploration activities in the mineral sector "in a safe and efficient way" because it is of high quality and clearly gives direction on which features to follow.
"The survey data will assist interested investors to be more efficient in their exploration work and do more focused exploration work, hence preventing time wasting and money on trial and error exploration," he said.
(Visited 43 times, 43 visits today)
Latest posts by Vanessa Banda
(see all)